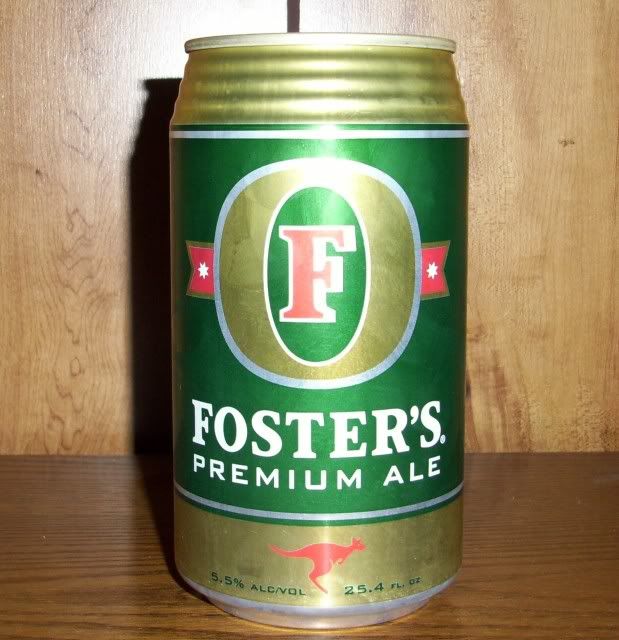 According to their site, it has a bright, copper color with "enormous" head. It also says you'll smell some sweetness, because of the caramel and fruit and taste a earthy and malt flavor.(We'll see about that.) It's sold in the Oil Can(green) and draft and let's not forget the ABV is 5.5%.
As you see here vvvv, it has a nice dark amber(copper, as they call it) color. Though it has a fairly
good head, there are few bubbles that come up from the bottom of the
glass.
I didn't smell much of the aroma it's supposed to have. Smelled like dirt in my opinion, in the can anyway, I guess that's the earthy part. I did find the aroma maybe a little sweet in a glass, even though I still couldn't smell a powerful aroma of any particular type.
Reasonable lacing on the sides of the glass, as seen here. vvvvvv It slides rather quickly down the glass and back in to the beer.
I'm surprised,
, it's actually smooth tasting and not as horrible as it's
Kangaroo P*ss brother. I wouldn't go as far to say it has an earthy taste but a malt one for sure. It also had a creamy aftertaste without much of a bitterness. Wow! Another surprise.
Well, even though I wouldn't drink it all the time, it's at least fairly decent. I could drink it from time to time, not on a regular basis, but if I had no other choice I susppose. I'd rather be drinking my Guinness though.
I'll soon bring the Rogue American Amber Ale review. As soon as my husband gives me the beer! LOL
Save a bar stool and a cold pint for me!