Now before continuing, I'd like to say I bought a six-pack sampler of Schell's beer that contained 4 year round brews and two seasonal. So, four more to go!!!
Zommerfest(now in season), introduced on Memorial Weekend, 1998, is brewed in a 'Kölsch' style, which originates from
Cologne, Germany. It's brewed with 90% barley malt
and 10% wheat malt and now also with real Minnesota honey from
Madelia, MN.


Sorry, the pic isn't better.
I found it to have a pale gold color with not much of a hop aroma and malt taste. Even though the site says it's has "slight malt flavor and sweet hop aroma", but it also says it is "low in hop flavor and aroma" Which I totally agree with.
It has a dry finish, one that leaves you wanting more to drink, with little aftertaste, it is very refreshing. It also has a excellent head and lacing that stays with the glass(as seen below).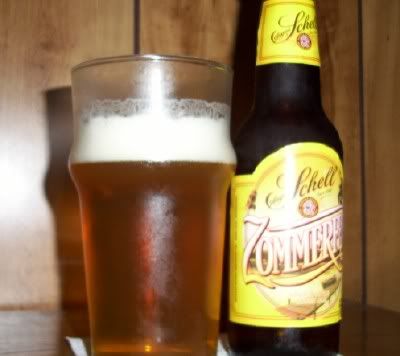 This Kölsch Style Honey Ale is 5% ABV and is claimed to go "well with any summer activity". I can see how to could, but you'll have to judge that for yourself!