Grolsch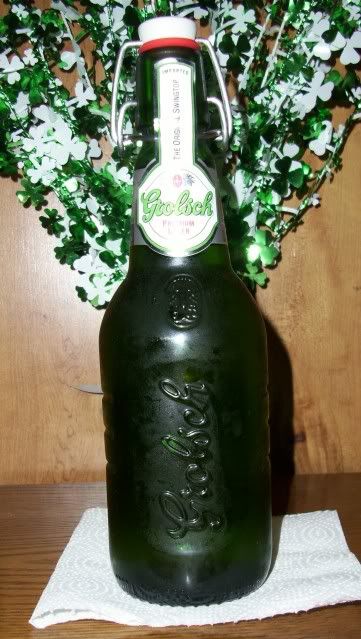 Grolsch Premium Lager, brewed and bottled by Grolsch Bierbrouweril, Enschede, Holland, since 1615, making this one of the oldest companies in the Netherlands.
Grolsch has a long and interesting history that I invite you to read, providing you're over 21 to enter the site. http://www.grolsch.com/ Take the journey while you're enjoying this brew.
The founder, Peter Cuyper, taught his fellow-brewers the best methods and secrets of brewing a good beer. He was responsible for refining the natural method of beer brewing, almost 400 years later, it is still the same method used today by Grolsch.
The "swing-top" was introduced in 1897 by Theo de Groen, along with the advertisement, Beer is always fresh, no need for an opener, and you don't have to drink the whole bottle at one time.
Like I said, there's a long history, from where it was started to where it is today.
The bottle is 15.2oz and has an ABV of 5%. To serve this beer, the following steps should be consider.
1. Serve at 43F to 46F.
2. Avoid the slightest trace of grease on the glass, if necessary, clean glass with soda, rise thoroughly with warm water, and LET IT DRAIN, do not dry it.
3. Rise glass with COLD water just before pouring.
4. Hold the glass at a slight angle and pour the beer steadily until 3/4 full, then hold glass upright, let the head rise and fill the glass to the top.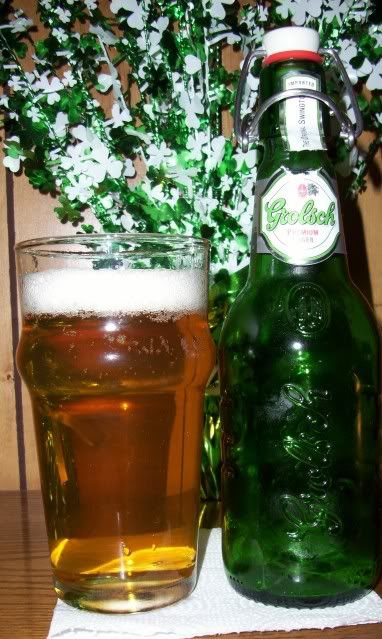 My English pint glass is bigger than 15.2oz, but you get the idea.
A malted barley aroma with a light/medium yellow color. Not much carbonation and not much head, as it dispenses quickly.
BEFORE
AFTER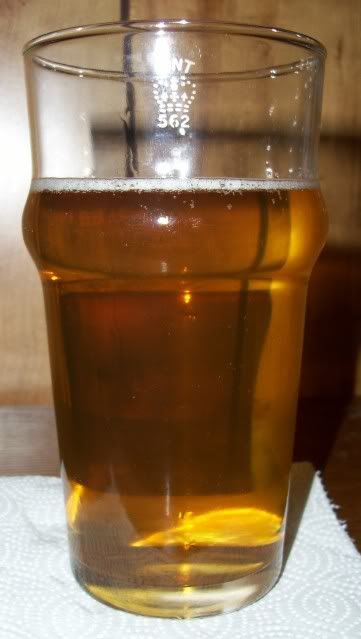 It's bitter but not a bad bitter, it gives a slight bite under and at the back of the tongue. Definitely malted barley and hops taste. Even though it doesn't leave much lacing on the glass(as seen above), it has good flavor and is easy to enjoy while reading the history on Grolsch.
A smooth, mild creamy aftertaste, none of that bitter or sweet gag-me-crap you get with some beers. Dragon Stout is a good example of gag-me-sweet aftertaste, like molasses.
Even though the ceramic swing-top has been replaced(2001) with a polypropylene swing-top, it is still the iconic symbol of Grolsch. They have in 2008, also streamlined their bottles with caps to fit in refigerator doors, but you can read all about that on their website.
Cheers!