This Vienna-style lager, with 5% ABV, was introduced in 1999, and is named after the bricks that line Schell's old boilers.
I was extremely disappointed with the head that dissipated too fast and the very little lacing it had.
Even with it's amber-reddish hue, it seemed bit cloudy.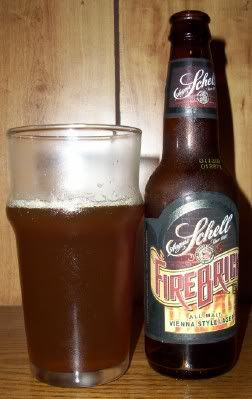 The aroma?
I couldn't really get one! Thought maybe my nose was stuffed up, but it does have a
mild
malt aroma to it. As for taste.....
Malty and a tad hoppy with a creamy aftertaste. It bites a bit at the sides of the tongue with maybe a touch of sweetness there. You can read how they describe it on their site at www.schellsbrewery.com. 21 and over, please.
It's fairly drinkable but to the other four, they were slightly better, IMHO. Maybe if I had than one to go on, I would have thought different.
ON TO THEIR
STOUT
!!!