Developed in Pilsen, Bohemia around 1840, the full hop characteristic and delicate aroma was widely copied by early American breweries. It has lost out over time
to the much lighter-bodied, low-hopped relatives known as
American "Premium" beer.

A Bavarian Pilsner style beer, Schell's Pilsner is brewed with 100 percent barley
malt and showcases the imported German Hallertau hops.
I first take notice in the color, a bright golden yellow hue, and wonder what it was going taste like. With it's fruity, barley malt aroma, I couldn't wait to taste it. I then took notice in the nice head of the beer(above pic) and the lacing on the sides of the glass.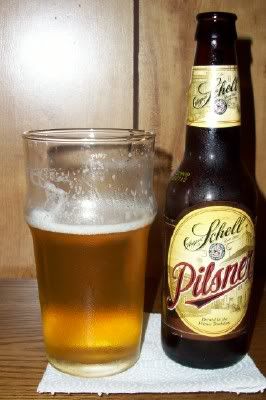 As I was tasting this Pilsner, I thought it had a bitter hoppy taste but also a good barley malt flavor. In fact, very hoppy, almost spicy due to it. Not a bad aftertaste, it's creamy on the palate.
The overall appearance and taste are very good. I would recommand it to any one who likes "true" Pilsners.
This is a little short for a review but it gets to the point that this beer is worth drinking!!! No wonder it has won several awards and those who like to know, the ABV is
5.6%.