Brewmaster's Collection
Cherry Wheat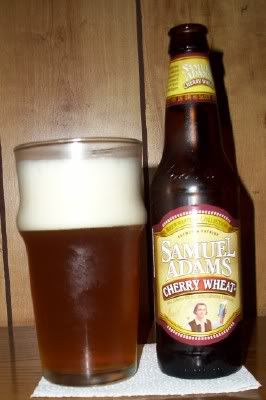 Introduced in 1995 as a summer seasonal brew, Samuel Adams Cherry Wheat developed a large enough following to be introduced as a year round style. Its distinct cherry character has made it one of the most unique and well liked styles of Samuel Adams beer ever.

The Cherry Wheat follows the centuries old American tradition of brewing beer with native ingredients, in this case Michigan cherries as well as a touch of honey. The sweet fruitiness of the cherries is balanced against the crisp, cereal note from the malted wheat and the subtle citrus flavor from the Noble hops.

Top fermenting ale yeast with a variety of malts such as the two row pale, malted wheat and Munich. It also uses the Tettnang Tettnanger Noble hops. Cherries are added at two different points during the brewing process. Once during the mash and again during finishing.
(from their own site, http://www.samueladams.com/)
A wonderful head(as seen in the top picture) and beautiful lacing on the glass.
The aroma is one of sweet cherries and I really enjoy the aroma of this beer.
It has a golden color that is also cloudy, as is common with wheat beers.
Very refreshing taste and none of that bitter aftertaste, very smooth. I feel it has a slight creaminess and is very enjoyable to drink.
If you're looking to watch your figure though, you're looking at 180 calories per 12 oz. The ABV is 5.4% and by weight, 4.2%. So, watch out driving after drinking a few of these.
I would like to conclude with my thoughts that this is one of the few Wheat Beers I can really enjoy and not mind paying $7.99(plus tax) for a six pack.


Enjoy you're Memorial Day weekend with some Samuel Adams Cherry Wheat with your picnics and outdoor grilling!