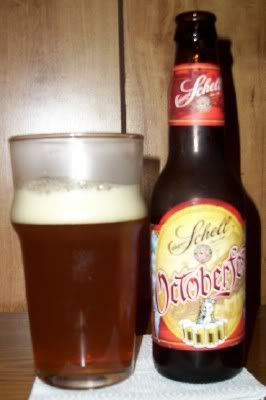 Now my actual review on this particular beer is rather short and to the point. So, I'll start off with a little history of it from the Schell's website. www.schellsbrewery.com Don't forget, if you want to visit this site yourself,
you must be 21!!!!
The Octoberfest or Marzen (March) type of beer was originally brewed in
March, and laid down in caves before the summer weather rendered
brewing impossible. Stocks would be drawn upon heavily during the
summer, and exhausted by October.

In
Germany, this tradition has come to be associated with one specific
style, Octoberfest Bier. In keeping with true German tradition, August
Schell Octoberfest beer is brewed just once a year. They carefully select
the perfect balance of Caramel malt, Pale malt, Cara Pils and Black
malt with Cascade and Nugget hops to create a rich, smooth taste.
The color hue of the beer I found pleasing to the eye with an amber hue.
(I tried using a white background to show this)
It had a wonderful malts aroma and a smooth caramel flavor.
BUT
...Though it starts with a good head, it dissipates. Somewhat disappointing.
Plus, not much lacing, as seen in the second bottom pic better.
All in all, it's a good seasonal October Bier! BTW, it's ABV is 5.5%.
Can't wait for Octoberfest 2009 at the riverfront!